Advoca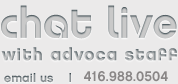 whats new
Twitter is over capacity. Too many tweets! Please wait a moment and try again.
follow us on twitter
Our Mission
Better Web For A Better World
Advoca is a full-service interactive agency, with a special focus on
Third Sector
and Fourth Sector clients. From our offices in Toronto and Vancouver we provide web and marketing services to a diverse global client base.
As a lifestyle (as opposed to profit) driven organization, we are free to pursue our goals of doing great work for amazing people doing positive and innovative things across the planet. The purest expression of this philosophy is our PWYC (Pay-What-You-Can) Program whereby Advoca aims to ensure that all deserving organizations achieve world class marketing communications and technology assets regardless of their available funding. Under the PWYC program Advoca currently donates $50-100K cad/annum to deserving charities, not-for-profits and socially innovative companies
Our highly talented and experienced squad of web and marketing professionals works from a nearly paperless distributed home office network, reducing our eco footprint and walking the walk we talk.
Our available services include:
Our team has twice been named to the National Post/Branham Group's list of the top 100 IT services firms in Canada.
Advoca clients currently include companies and organizations in over 20 countries including: United States, Canada, Australia, England, Taiwan, South African, Kenya, Mexico, Denmark and New Zealand. Our black list includes Military Industrial Complex, Cigarettes, and any company with a poor record on human rights or corporate citizenship.
Advoca was founded in 2001 by Senior Partners James Chillcott and Jordan Klassen, the team that created the infamous NapCameBack software which foiled Napster in the spring of 2001. Both can often be found involved in death defying acts while planning their next technological coup.